PT Services Across State Lines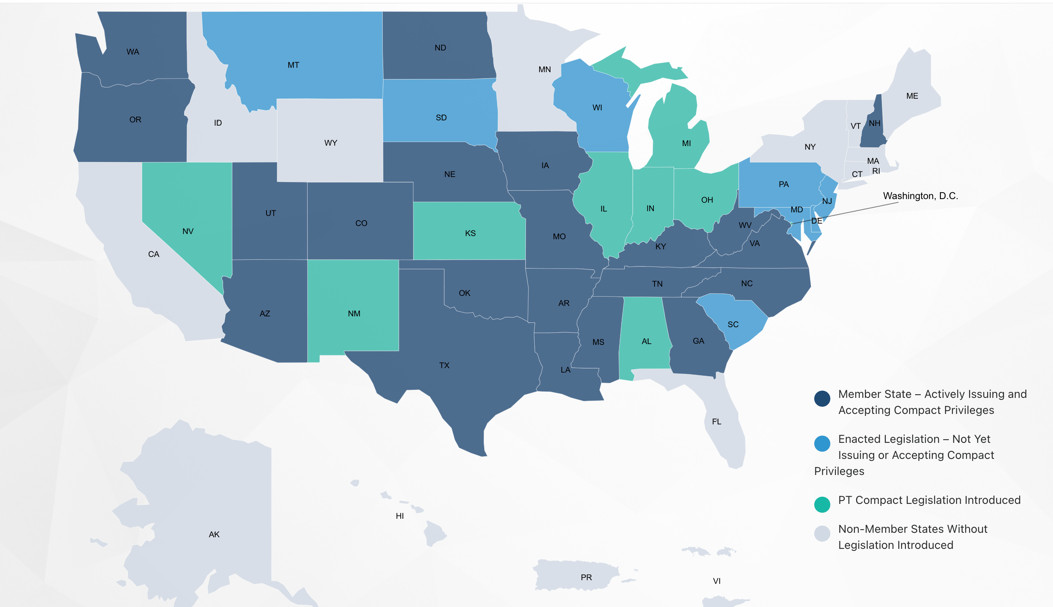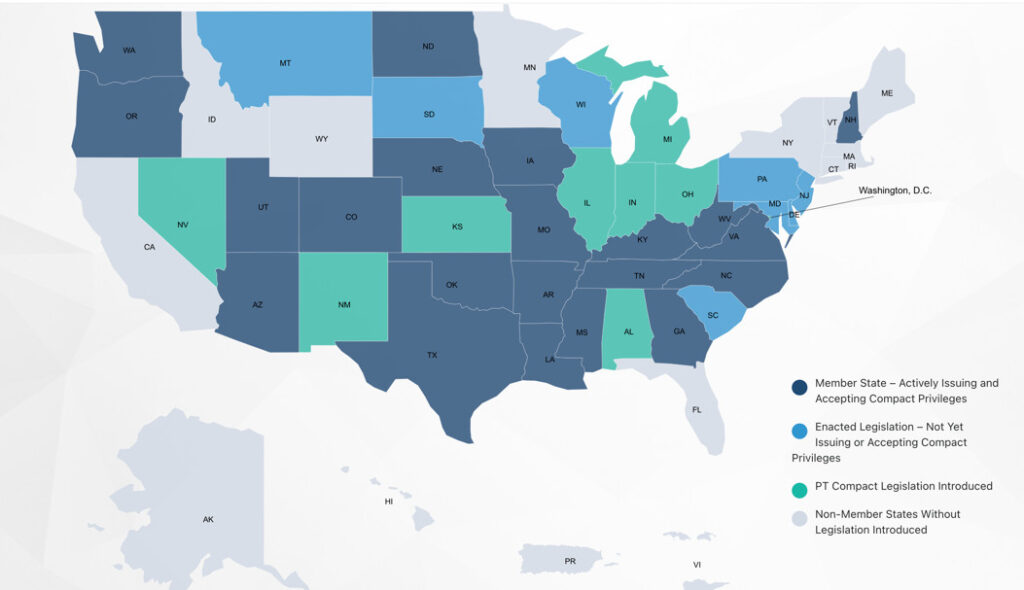 By Suzanne Soine
Do you or your loved ones need physical therapy while in another state or a rural area?
Oftentimes, we have a hard time finding care when we are on vacation or wish our family and friends could see our physical therapist but are too far away. New adaptations to physical therapy access due to COVID 19 has made it easier to treat people in other states. The Physical Therapy Compact is an interstate agreement between member states to provide a collaborative structure that protects the public by increasing consumer access to PT services and reducing regulatory barriers to interstate mobility and cross-state practice.  
Currently, Stride physical therapists can provide telehealth services to people in 21 states (see dark blue/grey states on above map). Other states are also working diligently to allow this access. These states are listed under light blue and seafoam green.  
Who can benefit from this type of care?
Snow or sunbirds who want to keep continuity of care with the same physical therapist but will be away for a long period of time.

Rural communities – those in small towns or in farm lands may not have the same access of care as those in bigger towns and cities. This is a way to reach those communities and provide good care

Family members or friends in the compact states who have heard great things about one of Strides therapists and would like their opinion and expertise regarding their own health concerns.
Our 5 main highlights of telehealth benefits: 
Flexibility

Independence

Safety 

Transparency

Cost
Please reference our blog for more in depth information regarding each subject matter.  
Contact Us
If you are interested in seeing a Stride physical therapist and are living in or traveling to another state, you can reach us by phone (206)-547-7445, or email admin@strideseattle.com. 
(2021, February 18th).  Is the Compact for You?  ptcompact.org/ptc-state