Women's Ways of Cycling: Finding the Joy, Freedom, and Empowerment of Bicycle Commuting in the City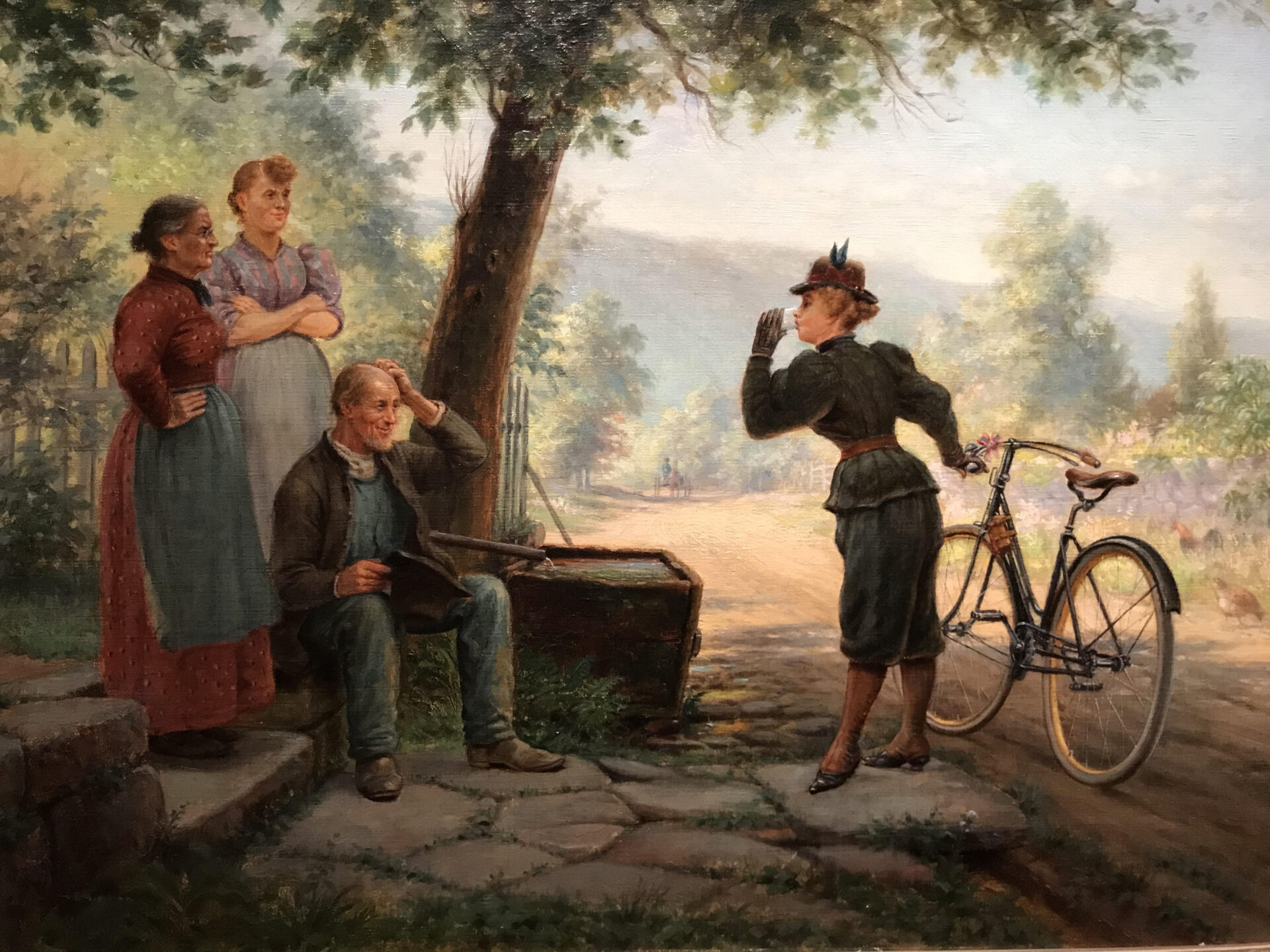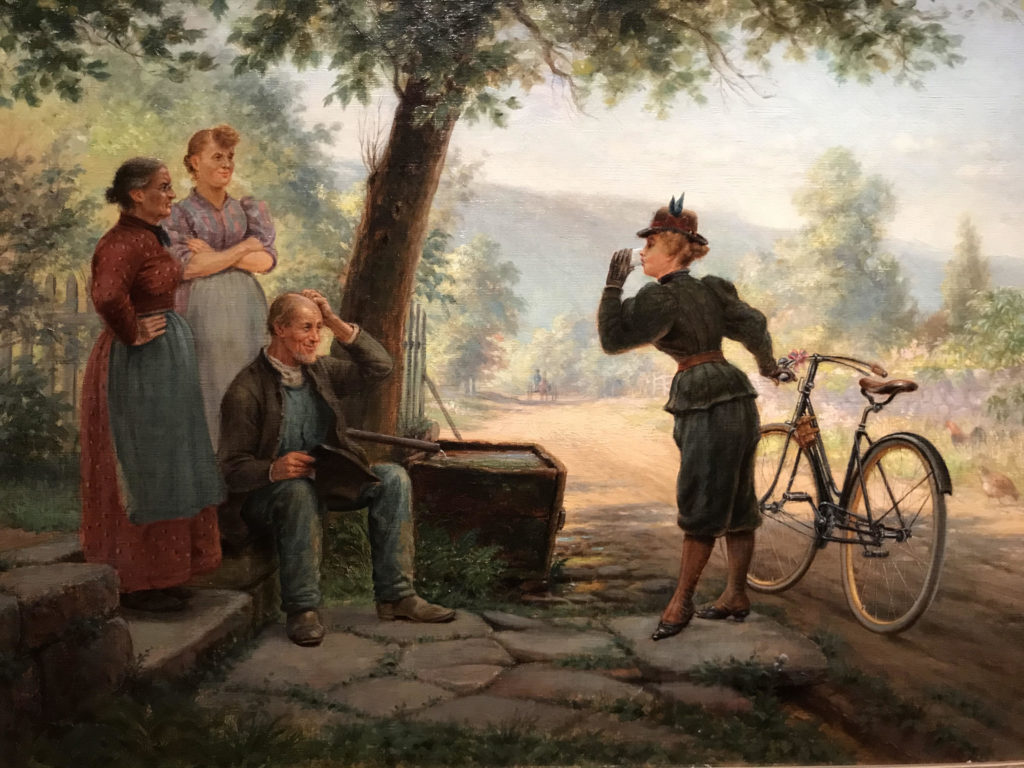 By Susanne Michaud, DPT, OCS
I love Seattle. I've lived here since 1987 so can attest to the changes in density and traffic patterns. The conversations about the Seattle then versus now often degrade into complaints about the traffic. I can recuse myself of these negative grumblings because I have the magic carpet ride for transportation – my bike. When I do get in my car to commute to work, the sticky traffic issues reinforce my commitment to staying out of my car and on my bike. During most commute times, I'm able to ride the 4 miles faster by bike than by car. I can honestly say I feel safer, freer, and happier getting around by bike (or foot) than by car. Part of my continued love affair with this city is that I get to discover more of it by being outside and seeing it at a slightly slower pace on 2 wheels.
Feeling safe and free to ride a bike, however, is not the experience of many women in this and many other US cities. Only 25% of the bicyclists on the Seattle roads are women.1 Currently only 1% of trips in the US are done by bike. In the United Kingdom, men do 3x as many cycling journeys and travel nearly 4x as far as women on bikes do. 2 The primary reason for this is that women tend to be more risk-averse than men. These concerns around safety are well founded by women, given that fatalities and serious injuries occur 5x more in the USA than in the Netherlands. One might say that women are the "indicator species" for safe roads. 3 The trouble is that with fewer women riding bikes, there are fewer women advocating for the need for safe bicycling infrastructure.
Safe cycling conditions can and do exist internationally. In the Netherlands, Germany and Denmark women cycle as much as men with rates falling only slightly with age.4 In the Netherlands women make up 55% of the trips by bike. Clearly these countries know how to address the issues that are important to women: safety, dedicated cycling lanes and infrastructure, motorist and cyclist education on the rules of the road, and cultural norms.  
My first hand experience as a bike commuter over the past 32 years is that the infrastructure and dedicated bike lanes have improved immensely in Seattle. In 1987, the only bike lane to speak of was the Burke Gillman trail. Today Seattle has an extensive system of dedicated lanes and routes with great advocacy from organizations such as the Cascade Bike Club and Washington Bikes. Although we have a long way to go, Seattle has improved and continues to improve our bike corridors (see Seattle Bicycle Master Plan).
2019 is the 100 year anniversary of the 19th Amendment, securing women's right to vote after an 80 year effort by valiant suffragists. The picture above, called "The New Woman," painted by Edward Lamson Henry in 1892, was taken at an exhibit on Women's Suffrage at the Portrait Gallery in Washington, DC. The picture likely depicts one of the brave women of that time, bucking the cultural norms of the day by putting on odd clothes and getting outside to exercise. The intent of this article is to inspire the brave women of Seattle to get on their bikes and start a new environmental revolution, to find their freedom and own their right to the roads. Listed below are some reasons to get on the saddle and ways to overcome barriers to riding.
Motivators for bike commuting:
To avoid traffic and frustration

Fun, exhilaration, and invigoration

To get regular, consistent exercise

Great for the environment – zero carbon impact (or nearly zero if use of electric assist)

To be outside and communing with nature

Quality time to oneself or time with friends and family

Empowerment: the independence of transporting yourself with your own strength builds agency

Contributing to the greater good – actively being part of the solution
Challenges and solutions to bike commuting:
Poor bike lanes and infrastructure
Map out trip prior to leaving home (see

SDOT bike map

)

Ride as far to the right as is safe, barring grates, car doors, debris and terrain hazards

Decide whether it's safer to turn left like a car or like a pedestrian

Take residential streets instead of arterials without bike lanes

Ride on sidewalks when in doubt (this IS legal in Seattle)

Highest risk areas are at intersections: make eye contact with drivers, use hand signals and assume other's don't see you

Report bike lane problems to SDOT (

Find it Fix it

app)

Contact your city counsel member and ask them to support bike infrastructure
Home and family responsibilities5
Consider use of a cargo electric bike and/or bike trailer to transport kids and run errands

Cycle with kids/spouses to school and work

Work with partner to relieve you of your regular duties 2x/week

Cluster errands on route home
Rain and other inclement weather6
Lower tire pressure in wet and icy conditions to improve friction

Wear layers, with a wool base layer. Avoid polyester since it holds odors

Always carry a rain jacket (pants are optional)

Cover helmet with a rain guard

Use fenders and/or mud flaps

Wear gloves that are wind and rain resistant

Use booties that cover feet to keep warm and dry

Bring hand and foot warmers.

Wear protective eye gear (clear or yellow lenses in low light)

See and be seen

Be aware of slippery surfaces: rainbow/oily patches on roads, sewer covers, wet leaves, metal, painted surfaces
Wear bright/reflective clothing

Have at least 2 rear lights and a front head light that projects 500 feet (usually greater than 200 lumens)

Pay attention and ride without distraction (no ear buds)

Ride defensively, assuming others on the road cannot see you
Basic bike check before riding: 

Check air in tires

Check brake pads 

Check that chain is intact and greased 

Make sure quick release wheels are tight

Find a good bike shop and have bike tuned every 6 months

Keep bike clean to minimize wear and tear (e.g. brake pads)

Take a basic bike maintenance class (Cascade Bike Club, School of Bike, Wright Brothers, Bike Works)
To avoid having to change clothes, ride slowly and dress in movable clothing that limits odor (e.g. wool).

Roll clothes to place in bike bag

If no shower services at your work/school, pack a toiletries bag with essentials (dry shampoo, washcloth or wipes, brush, makeup, etc)

Allow for time to get dressed/refreshed when you arrive
Ride with experienced cyclists

Take bike skills class through organizations like Cascade Bike club

Learn or review the rules of the road

Make a plan and take small steps (e.g. have bus pass to ride part of way)
Physical aches and pains while riding
Ride a bike that fits your size 

Get a bike fit from a skilled PT

Learn about bike fitness training and conditioning from a PT or bike coach
The facilitators to a positive riding experience:
Good planning: knowing the safe routes and having appropriate gear for the climate and terrain

Good bike lanes

Well tuned and maintained bike

Safe riding habits

Appropriate clothing

Good bike fit

Riding with friends/groups

Allotting enough time for ride and clothing change
If it is "as easy as riding a bike" then we would all be on bikes. If you are considering getting back on your bike, take a moment to write about what motivates you to ride, what prevents you from riding, and what you need to achieve your desired lifestyle change. Then call on your resources, get back on the saddle, and enjoy the ride!