The Well-Being Collective – "Say the Right Thing" by Kenji Yoshino and David Glasgow
June 27 @ 5:00 pm

-

6:30 pm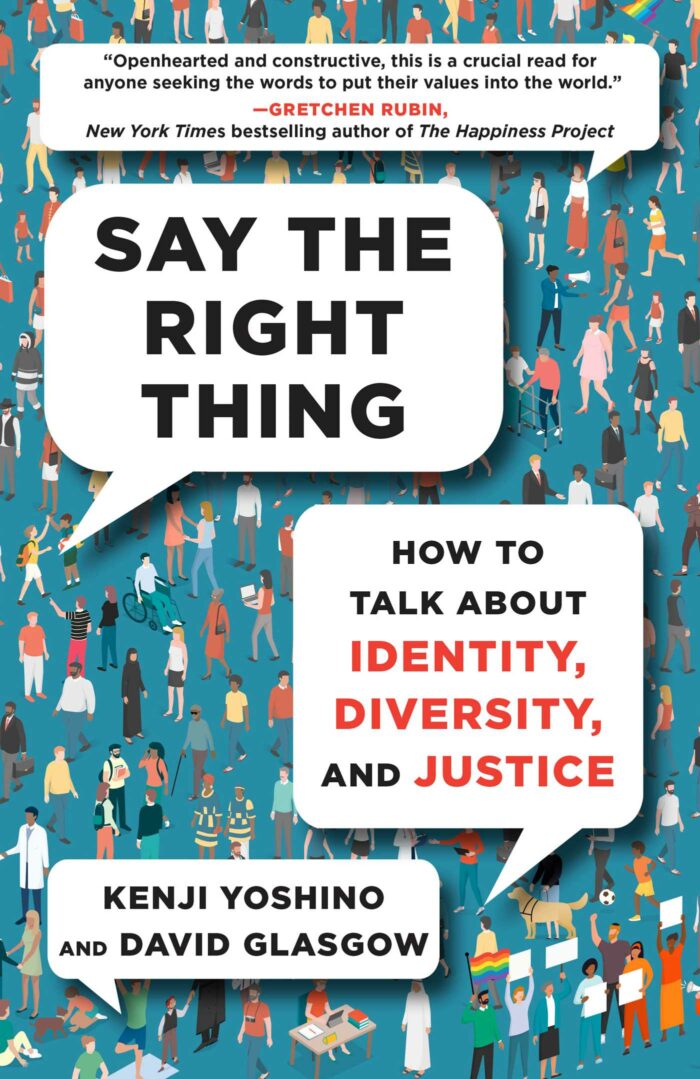 "Say the Right Thing" is a book co-authored by Kenji Yoshino and David Glasgow, which aims to provide guidance on communicating in a way that is more empathetic, inclusive, and effective. The book highlights the importance of language in creating an inclusive workplace culture, and provides strategies for individuals and businesses to create a more equitable and respectful environment. It focuses on three central themes: empathy, authenticity, and courage, and discusses how these traits can be used to build better relationships and communication, and ultimately, create positive changes in the workplace.
Immerse yourself in rainbow pride and DEI and join Stride Physio's Well Being Collective as we discuss the book "Say the Right Thing: How to Talk About Identity, Diversity and Justice", by Kenji Yoshino and David Glassgow. This book was chosen by Stride's owner, Susanne Michaud, as it aligns with our core values of connection, collaboration and community. This book is a skill building guide to creating inclusive, kind and transformative culture.
When: Friday, June 16 th , from 5:00 to 6:30
Where: In person, at Stride Physio, 100 NE Northlake Way, Suite 200B, Seattle, Washington
Bring: your empathy, listening, thoughts and courage
Enjoy: happy hour appetizers and drinks
RSVP: Please register here
As you listen to or read the book, here are some questions to ponder (from the authors
themselves):
1. Early in the introduction, the authors offer 4 examples of identity conversations – a white male leader trying to display empathy at a company forum on race, a woman who shushes her toddler son at a grocery store for commenting on a baby's medical condition, a boomer uncle who defends himself after he's told to stop commenting on a woman's attractiveness, and a student who over apologizes for using the wrong gender pronoun to refer to a transgender student. Imagine yourself in a situation like one of these and how you would handle it.
2. The authors argue that an "age-based divide" has opened in the approach people take to conversations about identity. Have you noticed a difference in your conversations across generations? If so, how?
3. Do you think the categories of "avoid," "deflect," "deny," and "attack" described in Principle 1 cover the major types of undesirable ally behavior in identity conversations?
4. In Principle 2, the authors observe that identity conversations can prompt extreme emotional discomfort, which often takes the form of fear, anger, guilt or hopelessness. When you have identity conversations in your own life, what emotions do you typically feel? Do those emotions lead you to behave in a particular way?
5. In Principle 2 the authors provide 5 strategies for managing your emotional discomfort – adopt a growth mindset, self-affirm, right-size feedback, name and reframe your discomfort, and seek appropriate support using "ring theory". Can you imagine using any of these strategies before, during, or after a conversation about identity?
6. In Principle 3, "cultivate curiosity", the authors encourage learning about identity issues. Which areas of identity (e.g., race, ethnicity, gender, sexual orientation, gender identity, disability, age, religion) do you currently feel you lack knowledge? How would you go about closing that knowledge gap.
7. Principle 4, "disagree respectfully", uses a "green", "yellow" and "red" distinction to frame disagreements to help you think about how and when to communicate your disagreements on these topics. Can you think of a time when you could have used this framework and approached your disagreement differently?
8. Principle 5 outlines how we can "apologize authentically" using recognition, responsibility, remorse and redress. Think of a time when you gave or received an apology on an identity issue, how it felt, and how it could be reimagined using this structure.
9. In Principle 6, "apply the platinum rule", the authors give examples of allies who did and didn't intervene when they witnessed non-inclusive behavior. Think of a time when you observed non-inclusive behavior. How did you respond? Did you intervene? If so, how did the conversation unfold? If not, why not?
10. In Principle 7, "be generous to the source" the authors encourage go to phrases to use when you wish to confront a source of non-inclusive behavior. What are some phrases or words you might use to address this behavior?
11. After reading this book, do you feel more or less anxious about identity conversations?
12. What is one thing you will do differently in conversations about identity, diversity, and justice now that you've read the book.