Dizziness Discussion
Saturday, March 28 2-3pm
Join us for a discussion about the vestibular system (inner ear) and how it contributes to balance, dizziness, and vertigo. If you or someone you know experiences these issues, or similar symptoms, this is a great introduction what you can do to treat it.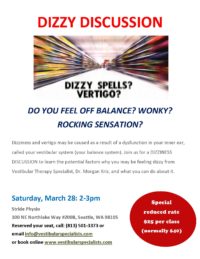 Yoga
Friday, March 6 & 13 4-5pm
Join us for an hour of yoga led by 3rd year PT student and certified yoga instructor Heidi Marten! This event is open to all experience levels from beginners to serious yoga enthusiasts. Some mats will be provided, but bringing your own equipment is encouraged; yoga blocks and bands available. Please RSVP by calling or emailing the front desk!